Featured Image: Death on the Pale Horse; Gustave Dore
October 9, 2017: Hungarian government minister András Aradszki, told his fellow PMs, that it was there "Christian duty to struggle against the Satanic Soros Plan…  We see attacks against the great European family, when (billionaire; HRC supporter and Clinton Foundation donor) Soros and his comrades want to destroy the independence, autonomy, and values of the nation, and diluting the Christian spirit of Europe with the forced resettlement of tens of millions of foreign migrants…"
March 2017: Wikileaks dumped 8,761 documents in its first of a series from 'Vault 7.'  It is said to be the largest public release of documents from CIA in history.   The dump called 'Year Zero' reveals the range and ability of the CIA's covert "hacking division."   'Year Zero' states that the CIA can "bypass the encryption of WhatsApp, Signal, Telegram, Wiebo, Confide and Cloakman."  Thus, CIA 'zero day' weapons can hack iPhones, Android phones, Windows, macOS, Linux, Routers and even Samsung TVs. The documents also reveal the occasional clashes between CIA and the NSA.  Wikileaks reports that "the CIA… built a world-class hacking team so it no longer has to rely on the NSA."
According to  WhatsApp.com, "we built end-to-end encryption… your messages and calls are secured."  They state they are used by "over a billion people in over 180 countries."  Reminds me of a friend's 17 year old son who hacked into a Tech Company and they hired him; or the 17 year who in October 2015, hacked into Talk Talk affecting 4 million customers and causes the company to be fined $400,000 pounds for insufficient security; or the 18 year old who hacked into the Pentagon's website in 2016 from his school laptop (he was 'thanked' by the US Defense Department for exposing weaknesses.)  And for the sake of time, lastly 'Barnaby Jack' who at to 2010 Black Hat Conference, hacked into a new ATM machine on stage.   The point is: systems connected to cable or phone networks, even wireless, can with advance software, such as Keylogger programs, be hacked by some computer geniuses out there.

As a matter of fact, in 2015 it was discovered by Moscow-based Kaspersky Lab that "Equation Group" had 500+ malware programs embedded in corporations and government agencies in the US, Russia and 40 other countries for as long as 14 years before being found.  Among their programs were 'Backdoor Regin' – a highly advanced backdoor trojan malware; and virtual file systems.  Equation used over 300 internet domains and 100 servers to host their command and control operation.   The Equation Group was called by Russia's Kaspersky, "the most sophisticated computer attack group in the world."   And who is the Equation Group?  According to Edward Snowden's (former highest level software developer for the CIA) leaks they are the National Security Agency (NSA) of the United States.
Jan/Feb 2017: In 2011, in Moscow, Fatah agreed to let HAMAS join in an interim government National Council under the Palestinian Authority.   In January 2017, Russia asked the Council is opposed to Trump moving the US embassy in Israel from Tel Aviv to Jerusalem.   February 2017, HAMAS and Fatah has agreed to create a new unified 'government' with a new National Council.   Ahmad abu Marzouk of HAMAS said 'the Quartet's work completely failed… including UN resolutions.'  Quartet – US, Russia, EU & UN.  HAMAS website at http://hamas.ps/en states "Hamas is a comprehensive institutional movement taking resistance against the Israeli occupation… Hamas is an integral part of the Arab and Islamic Nation…"
(Above Feb. 15, 2017 Chinese ambassador met with HAMAS leader)  Could the SCO be increasing its support to the Islamic Resistance Movement?
January 2017: Former Soviet (Russian) president Mikhail Gorbachev told TIME magazine that "it all looks as if the world is preparing for war… no problem is more urgent today than the militarization of politics and the new arms race. Stopping and reversing this ruinous race must be our top priority…" Gorbachev added, "The current situation is too dangerous."   Turkey is seeking to join Russia, China, Iran, Pakistan and others in the Shanghai Cooperation Organization (SCO).  The U.S. was barred from group.   Also, Jan. 2017 SCO agreement complete for International Road Transportation Facilitation between SCO countries.  This will also open up more transportation between the EU and SCO countries.  The SCO has a Interbank Consortium able to put trillions into a military campaign.
Putin with Turkish Prime Minister Recep T. Erdogan in 2016
December 2016: American Atheists organization post anti-Christmas billboards (while at the same time wanting to celebrate the giving of CHRISTmas – typical of them).  see: http://www.patheos.com/blogs/friendlyatheist/2016/12/01/atheist-groups-new-billboards-urge-doubters-make-christmas-great-skipping-church/
November 2016:  China completed the world's fastest supercomputer in June (without U.S. chips).  It has over 10 million compute cores and is called the Sunway TaihuLight.  It exceeds 100 petaflops or 100 quadrillion sustained floating-point operations per second.  This November it was said to reach about 125 petaflops of data.  The number three is managed by DOE-UT in Tennessee at 17.5 PFLOPS.  The number two is also Chinese and about 34 PFLOPS.  The number 4 fastest is by IBM in California at about 17 PFLOPS (1.57 million Processing Cores; 1.57 Terabytes of RAM).  A typical Apple iPad Pro can do 1.5 GigaFlops; a good desktop does about 100 GFlops.  1,000 GFLOPS = 1TeraFlop; 1,000 TeraFlops = 1 PetaFlop.  It would take a human about 30 million years to create the same task.
November 2016: A MORALLY DIVIDED NATION; on November 8, 2016 four more states legalized Marijuana sales in some form.  After the Election, it stands at 28 States legal (+D.C.) to 22 States not legal or still awaiting laws to be formed and passed.  Maine tells a bit of the nation's story: voters passed the measure 50.1% to 49.9% making it legal for adults 21 and older to possess 2.5 ounces of marijuana with a 10% sales tax.  Legislatures need and love their revenues, but if cigarettes and nicotine kills tens of thousands a year and cost taxpayers over $100 billion in health care, is revenue a good argument?  Also, arguments for legalized Marijuana are control over quality, sales and safeness; as well as medical uses.   Nevertheless, California passed Prop. 64 at 56% to 44% allowing six plants in homes and recreational sales; Nevada said yes at 54% to 46%; and Massachusetts – the first state to pass legalized Same-Sex Marriage more than a decade ago – said yes 54% to 46% no as well.   Thus, now 7 states have legalized marijuana RECREATIONAL USE and another 21 have legalized Cannabis for MEDICAL USE.
October 2016: The Kremlin's Ministry of Emergency Situations conducted four days of nationwide post-nuclear war drills.  Russia's officials reported that 40 million people rehearsed the drill.  Russia's RIA Novosti stated 'an inventory was taken in Moscow of the city's underground spaces, in order to allow us to plan for sheltering 100% of the city's population.'
Update 2016: Earlier this year Google was at Bilderberg and Zeitgeist talking about its DEEPMIND swallowable chip project.  To learn more read our page END TIMES: The DEEPMIND High Tech Chip.
October 2016: Philippines ends US cooperation and likely to seek Shanghai Cooperation.  This month President Rodrigo Duterte stated for American interest, 'your stay in my country was for your own benefit; it's time to say goodbye…  No more American interference.  No more American exercises.'  After 65 years, relations between the US and Philippines reached a low when Barrack Obama criticized Philippine's method of dealing with their illegal drug problem – to be fair; namely killing alleged drug dealers by police summary executions – about 300 in July 2016 alone.   Nevertheless, for the first time since its establishment 15 years ago; July 2015, the Shanghai Cooperation Organization (SCO) accepted India and Pakistan as members.  Iran's membership is still on hold, but expected soon, waiting the lifting of Iran sanctions.  And it is probable that the Philippines will soon seek to join the most powerful Eastern (anti-American) coalition.  May 2015, Philippine Ambassador to Russia Carlos Sorreta said, 'this is potentially a problematic mix… we all need to work very hard to come to a strategic cooperation.'  The Philippines's envoy to Russia said they saw potential in cooperation between ASEAN (Association of Southeast Asian Nations), EEU (Eurasian Economic Union) and SCO.
October 2016: according to UK's Daily Mail News, Russia warned the United States and called to officials to 'bring relatives home to the Motherland' amid heightened tensions over the prospect of global war.  Russia and US relations called 'lowest point since the Cold War.'  Retired Russian Lt. Gen. Evgeny Buzhinsky told the BBC: 'Of course there is a reaction. As far as Russia sees it, as Putin sees it, it is full-scale confrontation on all fronts. If you want a confrontation, you'll get one. 'But it won't be a confrontation that doesn't harm the interests of the United States. You want a confrontation, you'll get one everywhere.'
September 2016:  Back in July 2015 the Shanghai Cooperation Organization (SCO) had their BRICS and SCO sumbits in Ufa.  Following the meeting Vladimir Putin in a Press Conference stated, "First of all, for the first time in the 15 years of the SCO, the decision was made to increase the number of members. We signed documents to begin the accession of India and Pakistan. Therefore, the SCO's capabilities to react to modern threats and challenges will grow. The organisation's political and economic potential will significantly expand.  A resolution was made to upgrade the status of Belarus to an observer. Armenia, Azerbaijan, Cambodia and Nepal have become dialogue partners. Several more states have expressed willingness to join as observers and dialogue partners. The geography is rather impressive – from South and Southeast Asia to the Middle East."  This September 24 to Oct. 10, 2016, for the first time in history, Russian and Pakistan conducted 'Friendship 2016' Military drills.   The joint military exercise also includes Vietnamese, Mongolian and Indian military.  And as previously noted early in this blog; Russia and China has for years conducted such drills – and on a more massive scale.
SEPT 2016: 9/12/16: Jews are not allowed on Temple Mount during Muslim holiday of Eid al Ahda.
On the eighth day of (Hanukkah Dec. 13, 2015) Chanukah, 5775, the Temple Institute conducted a public Temple Service Practice Drill in which kohanim performed the hatavah (Menorah lamp preparation) and kindling of the golden Menorah as it is to be performed in the Holy Temple. The ceremony concluded with kohanim blowing on silver trumpets, followed by their recitation of Birkat Kohanim (the Priestly Blessing).
After millennia of yearning, only one organization is paving the way for the rebuilding of the Temple: the internationally-acclaimed Temple Institute, a research organization founded nearly thirty years ago and located in the Old City of Jerusalem. The Temple Institute is dedicated to every aspect of preparing for the renewal and ultimate construction of the Third Temple, and has succeeded in bringing about a spiritual awakening – bringing the concept of the Holy Temple back to forefront of our consciousness. The Institute has created nearly all of the sacred vessels needed to resume the Divine service in the Holy Temple, including the High Priest's breastplate featuring the twelve precious stones of the tribes of Israel, the half-ton golden menorah, and the musical instruments of the Levitical choir. It has also made huge advances in preparing the architectural plans for the building of the Temple, and many other areas of research.
But who will serve in the rebuilt Holy Temple? The Temple Institute has established the world's first school for the training and preparation of Kohanim – the Levitical Priests: Nezer Hakodesh, Hebrew for 'Crown of Holiness,' the Institute for Kohanic Studies. The Kohanim (plural for Kohen, the Temple priests) are the representatives of both the Creator and all of Israel, as well as all of humanity. The Institute's goal is to prepare these men to assume their duties and responsibilities in the Holy Temple.   http://www.TempleInstitute.org
AUGUST 2016: Americans discover another failed administration negotiation with Iran.  Another brilliant negotiated deal by the Obama administration; paying $ 100 million per hostage to Iran – more over according to Sec. of State John Kerry, the U.S. agreed to pay another $ 1.3 billion in interest dating back to the Islamic revolution.  It is well documented that Islamic Terrorist organizations and militant groups kidnap for ransom (and use the $ for weapons and to pay terrorist and or militants) – according to the U.S. Dept. of Treasury receiving hundreds of millions of dollars in the last decade, before this nearly ½ billion dollar agreement. A big question now is who will be kidnapped next?    Nevertheless, if ransom is to be paid let someone else negotiate, for in 2003 Germany paid $ 200,000 per hostage and in 2014, Cohen of the Treasury Dept. stated Al Qaeda is netting up to $ 10 million per hostage.   Nasser al-Wuhayshi, leader of Al Qaeda stated at that time, 'Kidnapping hostages is an easy spoil."
JULY 14, 2016:  Nice, France; a 31 year old Mohamed Lahouaiej-Bouhlel, a Tunisian-born Frenchman, drove a delivery truck through a crowd celebrating Bastille Day, while also firing a weapon into crowd killing 84 and injuring dozens more. The terrorist plowed through adults and children just as the fireworks ended about 10:30 p.m. Grenades and firearms were found in the truck. Bodies were spread on the ground for about a mile. France was due to end its state of emergency, but has now extended it until October. Tunisia gained independence from France in 1956; while at the same time abolishing Sharia law. The 2014 Constitution states "Tunisia is a free… state. Islam is its religion." The population is about 98% Sunni Muslim.
Note: Mohamed, a divorced father of 3, was previously arrested for armed robbery and domestic violence. Sept. 2014, ISIS leader Abu Mohammed al-Adnani used media urging, 'if you can kill a disbelieving American or European – especially …filthy French… citizens… slaughter (them) with a knife, or run (them) over with your car… choke him, poison him…" A 2014 article in Al-Qaeda Inspire magazine instructed terrorist how "use a pickup truck as the ultimate mowing machine …to mow down the enemies of Allah."
Winter 2014, Issue 13: "Inspire Magazine is committed to arm Muslim individuals – as well as Muslim groups… – in their Jihad on America.  Previously, we have presented Muslims with different weapons, including bombs and tactics… now we are obliged to give our ummah (community/nation/people) something special… that can easily be prepared at home… a bomb recipe that America fears it might reach the hands of other Mujahideen in other fronts.  However, what America didn't expect is that this recipe is going to be in the reach of all Muslims around the world.  It will circulate in the social media and Muslims will translate it into different languages…  In the Name of Allah, the Most Gracious… thus o enemies of Allah, know that every Muslim is a Mujahid and Jihad is an act of worship and an obligation in our religion.  No sincere Muslim will forsake fighting you as long as he has the chance…  We ask Allah to accept the killed among the martyrs… Isn't it our right to seek to free our imprisoned brothers in Guantanamo prison… and other US black sites around the globe?   …America: Why do we fight and resist you?  We fight you because you attacked us and continue to do so.  You attacked us in Palestine… under military occupation for more than 80 years.  The British, with your blessing and support, gifted it to the Jews, who have inflicted upon it over a half-century of oppression, aggression, criminality, murder, expulsion, demolition and destruction.  If the creation and perpetuation of Israel is a crime, then you are the chief perpetrators… You attacked us in Somalia…  You occupy our countries with your military forces and build your bases, desecrating our land and encircling our holy places to protect the security of the Jews and to ensure the continuation of the perpetual plunder of our wealth… America (has) attacked us for more than 50 years… Take heed America (to our demands – they list 7 – or else – threats; then add in next article) What about the future?  We are going to continue developing the idea of the lone Jihad… (Then they call for support from) the Afro-Americans who are oppressed by the Anglo-American supremacists… (Then in another article they speak of a 'Neurotmesis' bomb which could be detect only by high-end imaging devices which 'cannot be included in all airports due to cost…' and they add) What is the expectation and mindset of Jihad?  …to fight, kill and be killed. That's it."
Notes:  The magazine states 'words of wisdom' from their leaders and former leaders; they have articles pushing for race and religious wars in America and our nations.  Also, Jihadist come in all manners; Ramzi Yusuf who was the 'first Mujahid to attack the US Homeland' World Trade Centers, spoke 5 languages; went to Oxford, and had a degree in both electrical and chemical engineering.   This war with Jihadist will continue until the Antichrist come and the last and great tribulation.
JULY 4, 2016:  California judge rules Christianmingle and Catholicmingle must allow same-sex searches.  Spark Networks also must pay about $1 million in damages for 'discrimination' against gay singles.  California Unruh Civil Rights Acts requires 'all business establishments of every kind' to treat every person equally regardless of sexual orientation and religion.  It will not be to long before it will be against the law to read the scriptures over the public airways.
JULY 3, 2016: Less than 2 days before the end of Ramadan, the Islamic State leaders show their jihadist followers the most devastating attack of the year.  At least 115 people were killed and over 200 wounded after 2 bombings in Baghdad (Iraq) late Saturday night.  A refrigerator truck was blown up in the city by the Sunni extremist.  Because during Ramadan Muslims fast until sunset, the Karada neighborhood restaurant, shop area was very busy.  A NPR reporter said that the bombing occurred 'where people were gathering to shop, socialize and watch soccer during a hot, lively Ramadan night.'  Other reports state 'civilians and rescue workers search for survivors and carry out bodies as family members of the missing wait for news.'
JULY 1, 2016: Still during Ramadan, both Islamic State and al Qaeda claim responsibility for Bangladesh jihad.   Attackers yelled "Allahu Akbar" (God is Great) as they stormed the building that is split between a bakery and the O'Kitchen Restaurant in Dhaka and killed 20 people.   According to Prime Minister Sheikh Hasina, six gunmen were killed and one captured. Same Friday morning a Hindu priest was 'hacked to death' by 'Muslim extremists.'
Bangladesh has the fourth largest Muslim population in the world, but is very secular.  About 90% of the population claim to be Sunni Muslim.  Over 90% of Iran identify as Shi'a Muslim.  About 85% of the world's estimated 1.6 Billion Muslims are Sunni.  ISIL leadership is a radical form or deviant of Sunni.  For Sunni extremist, social media has revolutionized their recruitment and jihad.  Shias believe that their caliphs or ayatollahs – spiritual leaders must come through Mohammad's bloodline and many await the 12th Imam (heavenly concealed Prophet al Mahdi – their 'blessed Savior,' who is said to appear with Isa (Jesus); the Mahdi is considered by some to be the Antichrist).
JUNE 28, 2016: Just 2 days after ISIS video calling for more attacks (see below), at least 41 people were killed and over 230 injured by bombs in Istanbul, Turkey, at Europe's third-busiest international airport.  Police shots at 2 of the attackers, as they ran towards Ataturk's airport security checkpoint at one of the arrival halls and blew themselves up.   At least one of the three attackers opened fire with Kalashnikov ARs near a terminal entry point before setting off his suicide bomb.  At least one of the suicide bombers was running inside the halls of a terminal.  Still in the month of Ramadan, ISIS strikes again.
JUNE 26, 2016: ISIS video is released from Mosul, praising Orlando attack June 12, and June 13 attack on French police commander. The shows various places in San Francisco and Las Vegas and encourages more attacks.  It also encourages attacks against Australia, Europe, Canada and the Balkans.
In part the video states, "Do you think you are at war with a small group of mujahideen in Iraq, Syria, Libya and other places? You are sadly mistaken. And do you think you will defeat us by bombing our homes with your drones and F-16s?" al-Amriki begins.  "O America, indeed you are at war with… sincere Muslims around the world who yearn and desire to see the honor of Islam returned. And O America, indeed you are at war with the people who wish to be killed and slain for the sake of Allah… you are at war with the holy Quran."
Earlier this month, 4 Syrian recent immigrants were arrested in Germany for planning suicide bombings in Dusseldorf.  This is a great reason why the Brits voted to leave the EU.  Their immigration policies and a great part of their laws were being controlled by non-elected Bilderburg type (and actual members) EU officials in Luxembourg and Brussels.
JUNE 26, 2016: In a 5-3 decision the Supreme Court struck down Texas' law to protect women at outpatient abortion clinic.  The Texas law did not say that women could not go into an outpatient clinic and kill their 20 week old fetus; it said that the outpatient clinic had to meet hospital-like standards.  This same type law is currently on hold in Louisiana and several other states.  After the 2013 Texas law was signed by Gov. Perry, state run clinics that could not meet the standards closed – dropping from 40 to under 20 clinics according to the Washington AP sources.
Justice Breyer wrote that "the surgical-center requirement, like the admitting privileges requirement, provides few, if any, health benefits for women, poses a substantial obstacle to women seeking abortions and constitutes an 'undue burden' on their constitutional right to do so."
Justice Thomas wrote that the decision "exemplifies the court's troubling tendency 'to bend the rules when any effort to limit abortion, or even to speak in opposition to abortion, is at issue.'" Thomas was quoting an earlier abortion dissent from Justice Antonin Scalia, who died in February.
Below: 24 weeks and 5 days
JUNE 23, 2016: Britain votes 52-48% to leave the European Union; immediately followed by the resignation of Prime Minister David Cameron.  Repercussions were felt not only in the UK, but throughout Europe and the world as the pound fell 10% against the dollar to 1985 levels, and world markets fell dramatically.   European shares plummeted more than 8% and 3 of their biggest banks lost over $ 150 billion on paper in one day: Lloyds, Barclays and Bank of Scotland.  S&P 500 futures fell 4% and Japan's Nikkei was down almost 8%.  The Bank of England promised 1/4 trillion pounds to support the UK, and this move perhaps cut the losses in half.
"The word 'unprecedented' is often used too much, and people often reach for the hyperbole. But this is truly unprecedented," said Steven Major, head of global rates strategy at HSBC in London.
JUNE 12, 2016: Early this year, ISIS called for attacks on the 'West' during Ramadan.  (see May 21 below)  One week after the start of Ramadan (Sun. June 5), about 2 am Sunday morning, the Pulse Nightclub was still full with hundreds of people celebrating 'Latino Night.'  Then Omar  Mateen ran into the gay nightclub in Orlando, Florida and began what would become the worst mass shooting in the modern history of the United States.   According to Orlando Mayor Buddy Dyer, '39 were killed at the club, and 11 people died at hospitals;' and more than 50 others wounded by Omar's semi-automatic tactical Sig rifle with high-capacity magazine and handgun.  An AR-15 was one of the weapons used by terrorist Syed Farook and Tashfeen Malik to kill 14 people Dec. 2, 2015 in San Bernardino, California; as well as at Sandy Hook Elementary School to murder 20 first graders and 6 employees (Dec. 14, 2012).
For information on this see: Moral Compass: Orlando Mass Shooting
JUNE 2, 2016:  CNN Politics and other news sources report that 'State Department doctored video to hide Iran Deal.'   The administration now admits that 9 minutes of a 2012 video of an exchange between reporters and a State Department spokeswoman was intentionally edited out.  State Department Spokeswoman Victoria Nuland denied it at first; then another spokeswomen stated, 'genuinely we think it was a glitch.'  So, in December of 2013 it was revealed that secret talks took place between the U.S. and Iran.  Then Jen Psaki admitted the administration hid the truth to protect the secret negotiations.  (I think giving them $ 150 Billion was enough to insure anything secret or not) Psaki who took Victoria's place, said 'there are times were diplomacy needs privacy to progress.'
Deputy National Security Adviser Ben Rhodes earlier May 2016, acknowledged to The New York Times that the administration was deceptive about the talks, creating a "narrative" that they did not take place.  When James Rosen of Fox News – who asked the original questions of Psaki – tried to refer back to the video last month, he found the exchange had been deleted.   State Department spokesman John Kirby likewise had originally said it was a 'glitch.'  Yet, as the facts have recently come to light, last week Kirby stated, "there was a deliberate request (to delete) – this wasn't a technical glitch." He added, "…a specific request was made to excise that portion of the briefing. We do not know who made the request to edit the video or why it was made."
Fox News, June 2, wrote "One of the toughest congressional critics of the Iran deal, Republican Sen. Tom Cotton, called Thursday for the administration to find who was responsible. "The Administration must start dealing in the truth. One place to start is to identify the official who ordered the manipulation of the video and impose appropriate discipline," he said in a statement. In a statement issued late Wednesday afternoon, Psaki, now White House Communications Director, said, "I had no knowledge of nor would I have approved of any form of editing or cutting my briefing transcript on any subject while at the State Department."
MAY 27, 2016: Reuters news reported, 'Russian President Vladimir Putin on Friday warned Romania and Poland they could find themselves in the sights of Russian rockets because they are hosting elements of a U.S. missile shield that Moscow considers a threat to its security.  Earlier this month the U.S. military – which says the shield is needed to protect from Iran, not threaten Russia – switched on the Romanian part of the shield. Work is going ahead on another part of the shield, in Poland.  "If yesterday in those areas of Romania people simply did not know what it means to be in the cross-hairs, then today we will be forced to carry out certain measures to ensure our security," Putin told a joint news conference in Athens with Greek Prime Minister Alexis Tsipras.  "It will be the same case with Poland," he said.
MAY 21, 2016: Islamic State calls for attacks on the WEST, specifically namely 'the United States and Europe' during their most sacred Ramadan (Koran 2:185).   Reports translate an audio said to be from the zealot leader Abu Muhammad al-Adnani:   "Ramadan, the month of conquest and jihad. Get prepared, be ready … to make it a month of calamity everywhere for the non-believers … especially for the fighters and supporters of the caliphate in Europe and America… The smallest action you do in their heartland is better and more enduring to us than what you would if you were with us. If one of you hoped to reach the Islamic State, we wish we were in your place to punish the Crusaders day and night."
Ramadan 2016 begins the evening of Sunday, June 5 and continues to July 5.   During Ramadan the faithful Muslims fast from all food, drink and pleasures during the daylight.   Fasting during the month of Ramadan is considered one the 5 Pillars of Islam (which basically follow Judeo-Christian Scripture / traditions – yes; we Christians are supposed to at least occasionally Fast and fall on our faces before the Creator of the Universe; and the Jews began fasting on the Day of Atonement (Yom Kippur; Lev. 23:27-; Acts 27:9) 2,000 years before Muhammad made Ramadan the Muslim month of fasting).
Abu Muhammad (above); he was born Taha Sobhi Falaha in Syria, and is the official spokesman and a senior leader of ISIL/ISIS/IS.  (btw: if you can bring him in the U.S. Dept.of State will give you about $ 10,000,000.)  Though 8 ISIS leaders/advisors died in a US strike in March; Abu Bakr al-Baghdahi  (his body was not recovered and it is loosely reported he is recovering from a spinal injury) if still alive is their Leader.
DEC 2015: ABC News report: FBI Tracking Nearly 800 ISIS-Related Cases Across US.  'Of the nearly 1,000 FBI cases across the country looking at people who may have been radicalized online, about 80 percent of them are tied to ISIS, FBI Director James Comey said today.  In 2014 and the first half of 2015, the FBI was seeing as many as 10 people a month trying to leave the United States for ISIS, but over the past year that number has averaged about one per month, according to Comey. "The so-called Islamic State brand has lost significant power in the United States," Comey said. "They've lost their ability to attract people to their Caliphate from the United States." Nevertheless, Comey said the FBI takes the lists "very seriously."  (It only takes one to set off something unthinkable to most)
MAY  2016:  It has been 55 years (1961) since the Russian's dropped and tested their 50 megaton 'Tsar Bomba.'  Now according to various news sources such as London's Mirror.co.uk  (May 10, 2016) Russia is gearing up 'to test their unstoppable 'Satan 2′ stealth nuke capable of wiping out an ENTIRE NATION' or 'area the size of Texas or France… Its official name is the RS-28 Sarmat and it will replace aging Soviet R-36M missiles, which NATO military experts nicknamed 'Satan.'   And Aussie news source (News.com.au May 11, 2016) says, 'Russian media boasts of its new Satan II ICBM missiles' devastating power.  Moscow is set to unleash the 'Son of Satan' – the world's biggest nuclear missile… it will be deployed to Siberia where it will undergo testing and refinement.  It is due to become fully operational in 2018.'  The Mirror also displayed a poll asking 'will there be a nuclear war in the 21st century?' The response was 57% as of 5/11.
In October 2012, when interviewed by Cindy Adams of the N. Y. Post, former Harvard professor, Sec. of State to Nixon, National Security Advisor, Trilateral Commission member, Bilderberg member, Nobel Prize winner, and special advisor to Kennedy, Johnson, Reagan and Bush, author of 'World Order,' Dr. Heinz (Henry) Kissinger (born 1923-), said 'in 10 years, there will be no more Israel.'  In another interview four months later with Alfred Heinz (Daily Squib), Kissinger stated, "The United States is baiting China and Russia, and the final nail in the coffin will be Iran, which is, of course, the main target of Israel. We have allowed China to increase their military strength and Russia to recover from Sovietization…  If you can't hear the drums of war you must be deaf…   If you are an ordinary person, then you can prepare yourself for war by moving to the countryside and building a farm, but you must take guns with you, as the hordes of starving will be roaming."
May 19th, 2016:  The Islamic State (Isis) has executed 25 alleged spies by lowering them into a huge tub of nitric acid, until their 'organs dissolved', Local news source Iraqi News has claimed. The report could not be independently verified.
According to witnesses of the killings, the 25 alleged 'spies' were tied together with a huge rope and lowered in a basin containing the highly corrosive acid. Nitric acid is generally used for manufacturing ammonium nitrate that can be used to make fertiliser and explosives but it can also be used for photoengraving, etching steel, and reprocessing spent nuclear fuel.
"ISIS terrorist members executed 25 persons in Mosul on charges of spying and collaborating with Iraqi security forces,' a source told Iraqi News in a statement. "ISIS members tied each person with a rope and lowered him in the tub, which contains nitric acid, till the victims organs dissolve."
On Wednesday (18 May), IBTimes UK reported the burning alive of a Christian child who asked her mum to forgive the Isis militants who torched her home. The courageous child, believed to be around 12-years-old, was burned in Mosul after her family were raided by the jihadists for 'Jaziya' — a religious tax.
See  ISIS: Who, What, Why, How  article for more info.
But this is only part of what Americans should be concerned about; for now America may be indirectly targeting itself.  So the connections go something like this:
1.  January 2016: After 37 years, the United States with other European nations lifted oil and financial sanctions on Iran and released roughly $100 billion of its assets after international inspectors concluded that the country had followed through on promises to dismantle 'large sections' of its nuclear program.
While at the International Atomic Energy Agency in January, Secretary of State John Kerry stated, 'Iran has undertaken significant steps that many people — and I do mean many — doubted would ever come to pass.'
2. It is reported that Iran had shipped 98 percent of its uranium fuel to Russia, dismantled more than 12,000 centrifuges so they could not enrich uranium, and poured cement into the core of a reactor designed to produce plutonium.
3. Reuters news reported on 4/19/16, that Sergei Chemezov, head of Russian conglomerate Rostec, said, 'Russia will complete its deliveries of S-300 air defense missile systems to Iran by the end of the year.'  According to Rostec's own website, 'ROSTEC is a Russian industrial company consisting of 700 organizations, which also includes 22 direct management companies and 14 holding companies, five of which specialise in the manufacture of civilian products, and nine, in the manufacture of products for the military and industrial sectors. Rostec organizations are located in 60 regions of the Russian Federation. Company products are delivered to markets in more than 70 countries.'   So Chemezov should know, seeing his company manufactures this very 'high-tech …military equipment.'
4. April 17, 2016, according to Reuters Dudai office, 'Iran showed off parts of its new Russian S-300 missile defense system during National Army Day on Sunday, where President Hassan Rouhani said the country's armed forces were no threat to neighboring countries.'  The Iranian President stated, 'The power of our armed forces is not aimed at any of our neighbors … Its purpose is to defend Islamic Iran and act as an active deterrent.'  Earlier in 2010, Russia canceled a contract to deliver S-300s to Iran due to pressure for Western Nations.   President Vladimir Putin lifted the ban in April 2015, after an interim agreement was being worked out with the Obama administration and other world leaders.
5.  According to the Council on Foreign Relations, 10/14/15: 'the Shanghai Cooperation Organization (SCO) is an intergovernmental organization composed of China, Russia, Kazakhstan, Kyrgyzstan, Tajikistan, and Uzbekistan founded in Shanghai in 2001. Originally formed as a confidence-building forum to demilitarize borders, the organization's goals and agenda have since broadened to include increased military and counterterrorism cooperation and intelligence sharing. The SCO has also intensified its focus on regional economic initiatives…' (let me finish the sentence for these Bilderberg types who are often blinded by their power connections) and regional war-games and preparation for the future.
According to their official website:    http://sectsco.org
"The main objectives of the SCO are: strengthening mutual trust and good-neighborliness between the member countries; promoting their effective cooperation in political, trade-economic, scientific-technical and cultural spheres, as well as in education, energy, transport, tourism, environmental protection and others; joint security and the maintenance of peace, security and stability in the region; promoting the creation of a democratic, just and rational new international political and economic order."
Joint security means that Joint Military preparations.  Google 'China Russia War Games' or 'Sino Russian War Games'  and you will discover that in August of 2014, in China's Inner Mongolia Region, thousands of SCO member state 'test troops' were hosting the biggest military drill ever held by the Shanghai Cooperation Organization.
And 2015, the first ever Russian-China Naval war games took place – and where of all places – in the Mediterranean.
The Los Angeles Times (5/11/15) reported  "…following Chinese President Xi Jinping's visit to Moscow, where he headlined Victory Day celebrations and spent three days making billion-dollar deals with Russian President Vladimir Putin. Russia's World War II allies mostly stayed away.  Russia has been driven into the arms of its communist neighbor by Western sanctions imposed for its role in the bloody Ukraine crisis.  The United States and European Union have cut off Russia's businesses and its government from international lending and provoked tit-for-tat trade embargoes that have hurt both sides.   In response, Putin has steered his country away from a U.S.-dominated post-Soviet world order, pivoting instead toward China, its not-always-friendly eastern neighbor.  "People who call this an axis of convenience … are missing the bigger picture," said Gilbert Rozman, a Princeton University professor who writes and teaches on Northeast Asian affairs. "This is a relationship about national identity and the big efforts in both countries to establish a different kind of international order."
Then again in August 2015, Russia and China kicked off naval drills, this time in the Sea of Japan.
6.  As of January 2016, before sanctions where lifted the SCO stated:
Thus, at the moment: Six countries are Member States shosse Republic of Kazakhstan, the People's Republic of China, the Kyrgyz Republic, the Russian Federation, Republic of Tajikistan iRespublika Uzbekistan;
Six countries have observer status: Islamic Republic of Afghanistan, Republic of Belarus, the Republic of India, the Islamic Republic of Iran, Republic of Mongolia, the Islamic Republic of Pakistan;
Six countries are partners in the SCO dialogue: the Republic of Azerbaijan, Republic of Armenia, the Kingdom of Cambodia, the Federal Democratic Republic of Nepal, Republic of Turkey, the Democratic Socialist Republic of Sri Lanka.
Note: the US applied for observer status in the past and was turned down and not allowed on their Council of Heads of Government of the SCO Member States, or inside their meetings for that matter.
i have been watching for Iran to get Member State status since 2009.
According to  http://www.Eruasianet.org  January 18, 2016: "Iran applied for full membership in the SCO in 2008, but has been blocked by rules in the organization's charter that forbid membership for any country under United Nations sanctions. Those sanctions were lifted on Saturday as a result of Tehran's compliance with its nuclear deal with world powers including the United States, China, and Russia. The organization has been eager to get Iran on board."
According to Russia Beyond the Headlines, in a February 5, 2016 article, "During his visit to Iran in January, Chinese President Xi Jinping, in addition to signing 17 trade agreements worth more than $600 billion with President Hassan Rouhani, said  "China supports Iran's application for full membership of the SCO."
Above location (Baku, Azerbaijan): April 7, 2016: Iranian Foreign Minister Mohammad Javad Zarif (3rdR) and Russian Foreign Minister Sergei Lavrov (3rdL) who voiced Moscow's support for Iran's permanent membership in the Shanghai Cooperation Organization (SCO).  Lavrov said Russian President Vladimir Putin ordered the lifting of banking sanctions against Iran.  The Iranian foreign minister, for his part, welcomed further cooperation with Russia, particularly the promotion of economic ties. The two top diplomats also underlined the need for the development of Tehran-Moscow cooperation in the defense sector; and the latest developments in Syria and the international efforts underway to put an end to the crisis in the Arab country through political means.
7.  Russia, China and Iran have the resources: Nuclear; Gold; Oil
According to the http://www.TheTimesofIsrael.com  May 22, 2016: "Ahmad Karimpour, a senior Iranian military commander boasted that the Islamic Republic could, 'raze the Zionist regime (Israel) in less than 8 minutes'."  Below: a missile (likely Russian) launched from the Alborz mountains in Iran 5/9/16; the al-Quds Force senior adviser stated, 'we test-fired a missile with a range of 2,000 kilometers and a margin of error of eight meters.'  The Times reported, 'emblazoned on (2 of the) March tested ballistic missiles (were) the words 'Israel must be wiped off the earth.'  Yet, sanctions have been lifted and the US is given Iran tens of BILLIONS of $$$ after they continue to break or push the UN decision, 'Iran is called upon not to undertake any activity related to ballistic missiles designed to be capable of delivering nuclear weapons.'
Estimation of Worldwide Nuclear Weapons in 2015; sources included: iCan; SIPRI; FAS; ploughshares; Bulletin of the Atomic Scientists – Nuclear Notebook:  4,000+ deployed Nuclear Weapons and including Stockpiles about 16,000 worldwide; with Russian having: about 7,300; the US 7,000; France 300; China 260; the UK 215; Israel 80; Pakistan 130; India 120 and North Korea and Iran both with less than 10.  Additionally, the Chart showed that in 2015 worldwide military spending at $ 1.7 trillion; US – $ 596 billion; China $ 215 B; Saudi Arabia – $ 87 B and Russian at $ 66 billion.)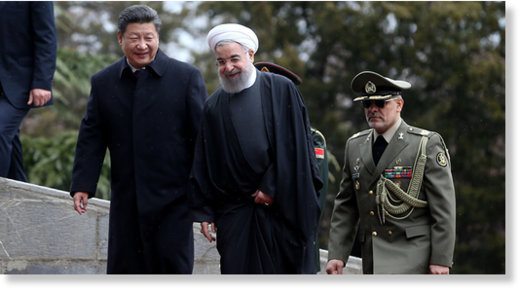 (above: bonding the Golden Triangle: China, Russia and Iran)
From 2008 to 2009, China's central bank increased its gold reserves 75% to over 1,050 tonnes. China has not updated its bullion reserves. As the world's largest producer of gold, it is a sure bet that China has been adding to its reserves.  Between the first quarter of 2009 and the third quarter of 2014, Russia's gold reserves soared 116%, from 532 tonnes to over 1,150 tonnes. Gold currently accounts for 9.9% of the country's foreign reserves. Why the sudden love for gold? Some see it as a sign the country is reducing its dependence on the U.S. dollar and the euro. Others see it as Russia fortifying its foreign reserves in the face of economic sanctions and a recession. Through the US claims to have the largest reserve holding over 8,100 tonnes of gold (who monitors these things?), or 72% of its foreign reserves, China and Russia have more gold each than the EU Central Bank has in its holdings, but more over they have the gold fields. Perhaps Russia and China are equalizing the gold reserves to equally share in future joint operations.
1 tonne or metric ton = 2204.62 pounds or 35,264 ounces.
35,274 ounces x est. $ 1,276 = $ 45,000,000 thus; together China and Russia has about $ 100,000,000,000 or $ 100 billion dollars in gold; as well as based on 2015 figures: China holding over $ 1.26 trillion in U.S. Treasury Bonds and Russia with over $ 88 billion.
OIL: We know Saudi Arabia and the United States are the top oil producing nations – currently.  But not many know Russia produces nearly as much as the US or the Saudis.  And in fourth place at about 40% of the US production rate is China.  Additionally, if Iran (ranked as the 6th largest producer) was to get a portion of Iraq's (8th largest) oil fields, it would surpass China's rate.    However, when you look at oil reserves, the US falls to 11th, Saudi Arabia to 2nd; Iran moves up to 4th (Iraq 5th) – together they would have the world's largest oil reserve. And Russia is 8th and China 13th… now you see why Russia and China – the leaders of the SCO want Iran as not only a member state, but an ally.  So who is no. 1?  Venezuela (oil is 95% of its export earnings) and not exactly among the US best friends, yet one of our largest suppliers of oil.
8.  The United States' soon to be $ 20 Trillion debt.  In 2011, Congress raised the debt-ceiling (money tree / printing press – btw the Vatican also has a EURO printing press) from $ 14.3 trillion to over $ 16 trillion; now $ 18+ trillion (what's a trillion here are there – its only like paying back a 100 year low interest mortgage which still takes so much of your budget; you want to sell the place and move to a better option, but the kids are still home and well your credit ranking stinks anyway – so you could not refinance if you wanted to).   Equality significant Standard and Poor's downgraded the U.S.'s AAA credit rating for the first time in history to AA+    If we default China and Russia will not simply forgive us.
9.  RELIGION: Way before the United Nations sought a 'two state solution' for Israel and the PLO in Palestine, the Jews and Muslims have been fighting over the land off and on for over 1300 years.   Although Arabs did occupy the land centuries before that, Muhammad and Muslim hordes that followed, did not yet conquer North Africa and the Middle (technically 'Near') East.  Anyway the Jews received the Land over 3000 years ago from the Lord (Gen. 12:7; 13:15; 26:2-; Exo. 6:8; Deut. 6:10; Joshua 5:6; etc.)
Nevertheless, next to Mecca's Kaaba and Al-Masjid al-Haram; Medina and Jerusalem hold Islam's most holy sites – the Al-Aqsa Mosque in Jerusalem, from where some Islamic tradition teaches Muhammad ascended to Heaven (others teach from Medina).  They also teach that Muhammad was carried by a holy steed (Buraq) from Mecca to Jerusalem after the angel Gabriel calmed his mount.  In Jerusalem Muhammad was instructed by the Lord in what followed as the Quran or Koran. And there are no negotiators or negotiations that will ever cause the Jews or the Muslims to give up their Holy Lands.
Below: photo from: The Temple Institute 3/2015 – Preparing for future service.
10.  Regardless of any of the above: 'in the fullness of time;' after the timing is right and enough 'cries' of injustice reach the heavens; and after 'the Temple of God (2 Thes. 2:4)' is built; then 'there will be great tribulation, such as has not been since the beginning of the world until this time, no, nor ever shall be.  And unless those days were shortened, no flesh would be saved; but for the elect's sake those days will be shortened… as the lightning comes from the east and flashes to the west, so also will the coming of the Son of Man be.  For wherever the carcass is, there the eagles will be gathered together.  Then, "Immediately after the tribulation of those days the sun will be darkened, and the moon will not give its light; the stars will fall from heaven, and the powers of the heavens will be shaken.  Then the sign of the Son of Man will appear in heaven, and then all the tribes of the earth will mourn, and they will see the Son of Man coming on the clouds of heaven with power and great glory.  And He will send His angels with a great sound of a trumpet, and they will gather together His elect from the four winds, from one end of heaven to the other (Matthew 24)."

Thus, the Lord said in a parable about 'his field' – the world (Matt.13:27-):
"So the servants [the Heavenly Host – of which a single 1 could destroy 185,000 men (2Kings 19:35) and there are tens of millions of His 'servants' (Rev. 5:11)] of the owner came and said to Him, 'Sir (note: Hispanics also call the LORD, El Señor – Sir), did you not sow good seed (also the word of God – Luke 8:11) in your field?  How then does it have tares?' He said to them, 'An enemy has done this.' The servants said to Him, 'Do you want us then to go and gather them up?' But He said, 'No, lest while you gather up the tares you also uproot the wheat with them.  Let both grow together until the harvest, and at the time of harvest I will say to the reapers, 'First gather together the tares and bind them in bundles to burn them, but gather the wheat into my barn'."
Then later after the disciples asked Him, Jesus explained the parable saying, "He who sows the good seed is the Son of Man.  The field is the world, the good seeds are the sons of the kingdom, but the tares are the sons of the wicked one.  The enemy who sowed them is the devil, the harvest is the end of the age, and the reapers are the angels."
And it shall be, even as the Lord says through the apostle John in Revelation (14:14-):
"Then I looked, and behold, a white cloud, and on the cloud sat One like the Son of Man, having on His head a golden crown, and in His hand a sharp sickle.  And another angel came out of the temple, crying with a loud voice to Him who sat on the cloud, "Thrust in Your sickle and reap, for the time has come for You to reap, for the harvest of the earth is ripe."  So He who sat on the cloud thrust in His sickle on the earth, and the earth was reaped."
(above: Gustave Dore's The Last Judgement)
More on Signs of the Times in article pages: Right Column of website
The Lord bless you and keep you…
a servant